February 2013 We again participated in the annual "Give Kids a Smile" national campaign. We served families in our community that needed dental care.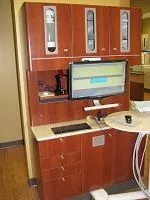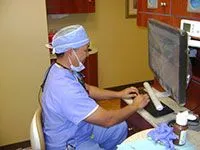 This is a group shot of our staff and This is Sonia (Dr. Herr's right hand) Dr. Herr doing his notes.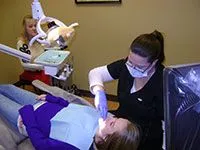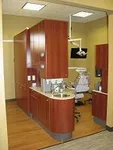 Carrie providing excellent patient care......and look, Aurelys too! Aure, Dr. Herr, and Carrie
We had a GREAT time taking care of all our families that received care on this day. We appreciate everyone on our staff for donating thier time to make this happen every year.
In March 2012 we attended the 100th Annual Hinman Dental Convention. We made it a special event for our office by taking in the city life. We stayed at the Melia hotel in downtown Atlanta. We also visited the "Engine 11" pub and ate at the "Baraonda" italian cafe'.
We went to Hinman again in 2013 to complete our Coninuing Education for the year. We stayed at the Holiday Inn Express downtown and spent an evening together at Durango Steak House. (Pictures to follow).
Dr. & Mrs. Herr took the entire office staff to the North Georgia mountains to plan our next year. We maped out our new schedule and decided on our vaction days for this next year. We also planned ways to better our customer service. We had an amazing adventure and deepened our bonds. There were horsesand of course lots of great food. Check back for more photos!!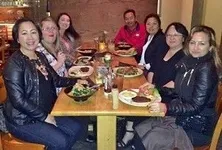 This year we have spent lots of time learning the latest and greatest of technologies to improve our services for our patients.
Our wonderful leaders!! (Dr. & Mrs. Herr) Sweet Hut (Duluth, Ga)
Juicy Crab (duluth, ga)